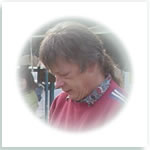 G'day, my name is Ray Mills, and I have been a keen gardener for over 20 years. About 15 years ago I started collecting the plants listed on this website. I'm passionate about the plants I sell, and freely offer any gardening advice you may need.
I can do mail-order to most of Australia (state and territory restrictions apply to Tasmania and Western Australia). Availability of some plants depends on my stock level, and on the dormancy of the plant.
Contact me regarding prices. You'll find my prices are very competitive.
Or catch up with me at one of these Central Victorian markets:
Market
Location
Time/Days
Market Scene
Wesley Hill*
(look for the Chai tent)
(50+ stalls)
Between Chewton & Castlemaine.
Saturdays
7:30am-1:00pm

Daylesford Sunday Market


(about 1hr North of Melbourne)
Daylesford Railway Station (Tourist train rides available).
Most Sundays
9:00am-2:00pm
* Reduced range of plants taken to Wesley Hill Market.
Greater range taken to Daylesford.
Call 03 5473 4242 (Mon-Fri) for anything specific.





I would be happy to help with any gardening queries you may have. I appreciate your feed back! Thankyou.

Email: Ray Mills

This article was published in the "Gardening Australia" magazine, November 2000 ....