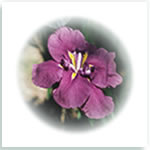 Water irises provide a varied range of large colourful flowers for the water feature in your garden. These flowers will attract attention becoming a great focal point amongst other water plants. Foliage looks great with some interesting variations in foliage colour.
All Water Irises prefer an acid medium, and do not tolerate lime. The ideal soil PH level is 5.5 to 6. When placed in water, pots should be submerged from 2cm to fully submerged (the top of the pot should be just below the surface). Position in full sun to part shade.
Japanese Water Iris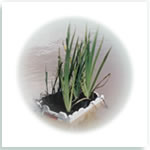 When grown in a pot a 6 inch minimum sized pot is recommended. Wait until the roots emerge from the bottom of the pot and the foliage is 10 to 15cm (4 to 6 inches) high before placing in water. If grown in a garden bed they need to be kept moist during the hot, dry months. If they have not received enough water, the flower spikes and foliage will be stunted in comparison to Japanese Water Irises grown in water. They do not have spreading rhizomes, so they don't require re-potting as often as North American Water Irises. This means they can remain in the same pot for a few years. Japanese Water Irises have one of the largest iris flowers (15-20cm). It is also one of the latest irises to flower, appearing in mid-November to late-December. It is winter dormant, and for best results should be removed from the water when the foliage has died back.
North American Water Iris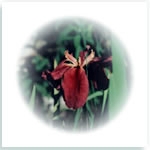 North American Water Irises grow by means of spreading rhizomes (or runners). When grown in pots, you need to check regularly to ensure the plant is not pushing against the side of the pot. If so, then pot up to the next sized pot. Divide and re-pot in late autumn or winter. North American Water Irises can stay positioned in water all year round.

There are a few exceptions!




T

reat these varieties of water iris like North American Water Iris:
• Laevigata
• Pseudacorus
• Gerald Darby



T

reat these varieties of Water Iris like Japanese Water Iris. These water irises have different growth characteristics to water irises with spreading rhizomes ,and don't have to be re-potted as often:
• Prismatica
• Setosa
• Chrysographes

Chrysographes must be taken out of the water when the leaves die back (mid-autumn). Return to water when new foliage is well established (mid-spring).


Click here to download my printable Water Iris growing tips
My Collection of Water Iris



Water Iris - Japanese





| | | | |
| --- | --- | --- | --- |
| Beni Tsubaki | Blue Danube | Blue Lagoon | |




| | | | |
| --- | --- | --- | --- |
| Embossed | Emperor | Enchanted Lake | |




| | |
| --- | --- |
| Fascination | |




| | |
| --- | --- |
| Gusto | |




| | | |
| --- | --- | --- |
| Imperial Palace | Island Paradise | |




| | |
| --- | --- |
| Kimboshi | |




| | | |
| --- | --- | --- |
| La Tosca | Love Goddess | |




| | | |
| --- | --- | --- |
| Nightstorm | Nishiki Gi | |




| | |
| --- | --- |
| Ocean Mist | |




| | | | |
| --- | --- | --- | --- |
| Peacock Dance | Prairee Chief | Prairee Noble | |




| | | | |
| --- | --- | --- | --- |
| Reign of Glory | Rosy Sunrise | Rose Queen | |




| | |
| --- | --- |
| Sopi no Roi | |




| | | |
| --- | --- | --- |
| Taffeta & Velvet | Tideline | |




| | |
| --- | --- |
| Wildform | |




Water Iris - North American



| | |
| --- | --- |
| Brevicaulis | |




| | |
| --- | --- |
| Fulva | |




| | |
| --- | --- |
| Gerald Darby | |

| | |
| --- | --- |
| giganticerulea | |




| | |
| --- | --- |
| Nelsonii | |




| | | |
| --- | --- | --- |
| Prismatica | Prismatica White | |




| | |
| --- | --- |
| Tridentata | |




| | | | |
| --- | --- | --- | --- |
| Versicolor Wild Wine | Virginica Blue | Virginica Pink | Virginica Orchid |




Water Iris - North American Louisiana



| | | | |
| --- | --- | --- | --- |
| Best Bets | Biscuit | Black Gamecock | Blue |




| | |
| --- | --- |
| Brown | |




| | |
| --- | --- |
| Colorific | |




| | | |
| --- | --- | --- |
| Dark Blue | Delta Twilight | |




| | |
| --- | --- |
| Little Miss Sue | |




| | | | |
| --- | --- | --- | --- |
| Maroon | Mid Blue | Midnight Spirit | |




| | | |
| --- | --- | --- |
| Pink Red Edged Yellow | Purple Black | |




| | | | |
| --- | --- | --- | --- |
| Red Edged Yellow | Red | Rich and Famous | Royal Blue |




| | |
| --- | --- |
| Sky Blue | |




| | |
| --- | --- |
| Whistling Dixie | |




| | | |
| --- | --- | --- |
| Yellow | Yellow Butter | |





Water Iris - Other




| | |
| --- | --- |
| Chrysographes | |



Laevigata:



Blotched White

Albopurpurea

Regal

Royal Cartwheel



Snowdrift

Varigata

White Many Spotted

White Spotted



Pseudacorus:



bastardii

Holden Clough

Ivory

Phil Ediger



Roy Davidson

Species

Variegata





| | | |
| --- | --- | --- |
| Setosa Blue | Setosa White | |