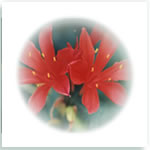 Our Australian climate is similar to South African's. So like Australian native plants, South African plants generally grow well here. South African plants have many relatives amongst Australian natives. An example of this is Crinum Powlleii and Moorei (South African), and Crinum Flaccidum and Pedunculatum (Australian).
South African plants are a great source of autumn colour. The following plants flower during autumn: Belladonna; Velthemia; Haemanthus Albiflos (White ox tongue lily); Nerine; Valotta; Hypoxis Alba (early winter); Cyrtanthus (will surprise you by flowering randomly all seasons); and Crinum (early autumn). Most other varieties listed below flower during spring and summer.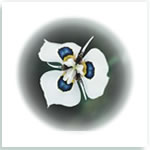 This category of my plant collection is too varied to offer a complete summary of growing tips, but here is some general information on South African plants. Feel free to contact me for further information.
The following South African plants listed below are frost tender: Clivea, Velthemia, and Haemanthus Albiflos (White ox tongue lily). Note: the Haemanthus Coccineus (Red ox tongue lily) is frost hardy.
Summer dormant South African plants are generally drought hardy.
My Collection of South African Plants