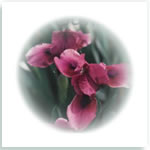 Flag irises are versatile plants. They are hardy, and with minimum care will reward the gardener by flowering each spring (September and November depending on the variety). The Flag Iris group includes many northern hemisphere bearded iris species, and their crosses. Group species include: Alberti, Croatica, Florentina, Germanica, Kashmiriana, Pallida, Pumila, Sambucina and more.
Flag Irises require good drainage. A position in full sun is ideal. However, they will grow in half sun/shade. If your iris produces healthy leaves but no flowers it needs shifting to a sunnier position. Dwarf Flag Iris need more sun than the taller varieties.
Flag Irises will grow in a wide pH range from 6.5 (acidic) to 8 (very alkaline). A Soil pH level of 7-7.2 is ideal.
Plant rhizomes on or just below soil surface as they require both heat (sun) and cold to flower. For best results Flag Irises need a minimum winter temperature of 10 degrees. If daffodils flower in your area, then Flag Irises will do well too. Divide and replant every 2-4 years, or when crowded. The best time to divide is immediately after flowering in late spring/early summer. Summer division requires more care, so early autumn division is the next recommendation. If Flag Irises are divided from late autumn to spring this may cause insufficient root growth, resulting in short flower spikes, and smaller flowers or flower spikes that blow over in winds.
Click here to download my printable Flag Iris growing tips
My Collection of Flag Iris